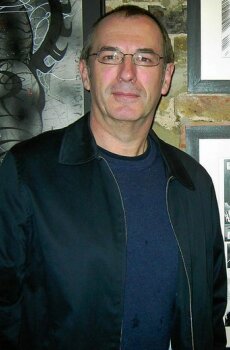 2000AD LETTERS: DAVE GIBBONS
Cyboons 2 episodes (Progs 130 to 131) 12 pages
Script: Pat Mills, Artist: Dave Gibbons, Letters: Dave Gibbons
Reprinted
Titan: A.B.C. Warriors Book 1 (1)
Titan: A.B.C. Warriors Book 2 (2)
Fleetway Quality: ABC Warriors 02
The Best of 2000AD 13
DC/Rebellion: A.B.C. Warriors The Meknificent Seven
Titan: A.B.C. Warriors Mek-nificent Seven
Quality: Sam Slade Robo-Hunter (Volume 2) 08, Colour: Unknown
Legion 6 episodes (Progs 28 to 33) 31 pages
Script: Gerry Finley-Day, Artist: Dave Gibbons, Letters: Dave Gibbons
Greenworld 2 episodes (Progs 34 to 35) 10 pages
Script: Gerry Finley-Day, Artist: Dave Gibbons (1-2), Brian Bolland (2), Letters: Dave Gibbons
Harlem Heroes 27 episodes (Progs 1 to 27) 112 pages
Script: Tom Tully (1-27), Pat Mills (1), Artist: Dave Gibbons (1-24), Carlos Trigo (1 page 5), Unknown (22), Massimo Belardinelli (25-27), Letters: Dave Gibbons (1-24), Bill Nuttall (1), Unknown (22), John Aldrich (25), Peter Knight (26-27)
Timeline data: 2050
Reprinted
2000AD Annual 1983 (1-5)
Prion Books: 2000AD The Best of (1-4)
2000AD Extreme Edition 13
Quality: Sam Slade Robo-Hunter (Volume 2) 12 (1-2), Colour: Unknown
Quality: Sam Slade Robo-Hunter (Volume 2) 13 (3-6), Colour: Unknown
Quality: Sam Slade Robo-Hunter (Volume 2) 14 (7-10), Colour: Unknown
Quality: Sam Slade Robo-Hunter (Volume 2) 15 (11-14), Colour: Unknown
Quality: Sam Slade Robo-Hunter (Volume 2) 16 (15-17), Colour: Unknown
Quality: Sam Slade Robo-Hunter (Volume 2) 17 (18-20), Colour: Unknown
Quality: Sam Slade Robo-Hunter (Volume 2) 18 (21-23), Colour: Unknown
Quality: Sam Slade Robo-Hunter (Volume 2) 19 (24-26), Colour: Unknown
Quality: Sam Slade Robo-Hunter (Volume 2) 20 (27), Colour: Unknown
Eagle: Robo-Hunter 1 (1-2?), Colour: John Burns
Eagle: Robo-Hunter 2 (3-4?), Colour: John Burns
Eagle: Robo-Hunter 3 (5-6?), Colour: John Burns
Eagle: Robo-Hunter 4 (7-8?), Colour: John Burns
Death on the Orient Express 2 episodes (Progs 86 to 87) 12 pages
Script: Pat Mills, Artist: Dave Gibbons, Letters: Dave Gibbons
Reprinted
2000AD Yearbook 1994
Judge Dredd Megazine 4.01
The Best of 2000AD 17
Fleetway Quality: Cyber Crush 01, Colour: Unknown
Quality: Halo Jones 09, Colour: Unknown
Quality: Sam Slade Robo-Hunter (Volume 2) 01 (1), Colour: Unknown
Quality: Sam Slade Robo-Hunter (Volume 2) 02 (2), Colour: Unknown
Titan: Ro-Busters Book 1
Rebellion: Ro-Busters The Complete
The Terra-Meks 4 episodes (Progs 98 to 101) 27 pages
Script: Pat Mills, Artist: Dave Gibbons, Letters: Dave Gibbons
Reprinted
2000AD Annual 1987
Judge Dredd Megazine 4.02
Fleetway Quality: Cyber Crush 04 (1), Colour: Unknown
Fleetway Quality: Cyber Crush 05 (2), Colour: Unknown
Fleetway Quality: Cyber Crush 07 (4), Colour: Unknown
Quality: Sam Slade Robo-Hunter (Volume 2) 03 (1-2), Colour: Unknown
Quality: Sam Slade Robo-Hunter (Volume 2) 04 (3), Colour: Unknown
Quality: Sam Slade Robo-Hunter (Volume 2) 05 (4), Colour: Unknown
Titan: Ro-Busters Book 1
Rebellion: Ro-Busters The Complete
Rogue Trooper 1 episode (Prog 228) 7 pages - Read Online
Script: Gerry Finley-Day, Artist: Dave Gibbons, Letters: Dave Gibbons
Reprinted
Prion Books: 2000AD The Best of
The Best of 2000AD 1
The Best of 2000AD Special Edition 1999
DC/Rebellion: Rogue Trooper The Future of War
Rebellion: Rogue Trooper Tales of Nu-Earth 1
Titan: Rogue Trooper Book 1
Rogue Trooper Action Special , Colour: Unknown
2000AD Board Game Rogue Trooper
Titan: Rogue Trooper Future War
Rebellion: The V.C.'s You're Hit, You're Dead!
A Night 2 Remember 1 episode (Prog 1280) 10 pages
Script: Pat Mills/Gordon Rennie/Robbie Morrison/Dan Abnett/John Tomlinson/Alan Grant/Grant Morrison/Mike Carey/Andy Diggle/Garth Ennis, Artist: Kevin O'Neill/Frazer Irving/Ian Gibson/Simon Davis/Kevin Walker/John Higgins/Steve Yeowell/Anthony Williams/Jock/Dave Gibbons, Letters: Tom Frame (pages 1-9), Dave Gibbons (page 10)
Featuring: Marshal Law, M.A.C.H.1, Judge Dredd, Finn, Invasion, Storming Heaven, Nikolai Dante, Halo Jones, Sinister Dexter, Torquemada, Judge Death, A.B.C. Warriors, Tor Cyan, Walter the Wobot, Strontium Dog, Ace Trucking, Stix, Zenith, D.R. & Quinch, Mazeworld, Lenny Zero, Judge Anderson, Hewligan's Haircut, The Balls Brothers, The Spacegirls
Set at the 25th Anniversary party at Ministry of Sound
Chrono-Cops 1 episode (Prog 310) 5 pages
Script: Alan Moore, Artist: Dave Gibbons, Letters: Dave Gibbons
Reprinted
Judge Dredd Megazine 4.14
Rebellion: Tharg's Future Shocks Complete Alan Moore Future Shocks
The Best of 2000AD 5
Eagle: 2000AD Monthly/Presents/Showcase 4, Colour: Janet Landau
Click HERE for a printer friendly view.