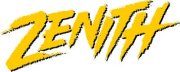 FIRST APPEARANCE IN 2000AD
Phase 1: Tygers 16 episodes (Progs 535 to 550) 81 pages
Script: Grant Morrison, Artist: Steve Yeowell
Reprinted
The Best of 2000AD 100
The Best of 2000AD 99
Titan: Zenith Book 1
MOST RECENT APPEARANCE IN 2000AD
A Night 2 Remember 1 episode (Prog 1280) 10 pages
Script: Pat Mills/Gordon Rennie/Robbie Morrison/Dan Abnett/John Tomlinson/Alan Grant/Grant Morrison/Mike Carey/Andy Diggle/Garth Ennis, Artist: Kevin O'Neill/Frazer Irving/Ian Gibson/Simon Davis/Kevin Walker/John Higgins/Steve Yeowell/Anthony Williams/Jock/Dave Gibbons, Letters: Tom Frame (pages 1-9), Dave Gibbons (page 10)
Featuring: Marshal Law, M.A.C.H.1, Judge Dredd, Finn, Invasion, Storming Heaven, Nikolai Dante, Halo Jones, Sinister Dexter, Torquemada, Judge Death, A.B.C. Warriors, Tor Cyan, Walter the Wobot, Strontium Dog, Ace Trucking, Stix, Zenith, D.R. & Quinch, Mazeworld, Lenny Zero, Judge Anderson, Hewligan's Haircut, The Balls Brothers, The Spacegirls
Set at the 25th Anniversary party at Ministry of Sound
FIRST APPEARANCE IN THE MEGAZINE
Grant Morrison - Pop-Culture Prophet 1 episode (Meg 245) 7 pages
Script: Matthew Badham, Artist: Various
Featuring: Zenith
Text article
MOST RECENT APPEARANCE IN THE MEGAZINE
Interrogation - The Art of Storytelling 1 episode (Meg 257) 7 pages
Script: Steve Yeowell inteviewed by Matthew Badham, Artist: Steve Yeowell
Featuring: Zenith

STARRING
Zenith

STATUS
Superhero-cum-pop star

DATELINE
1987

LOCATION
London

WEAPONRY
None. Strong enough to punch clean through a super-Nazi's rib cage, Zenith didn't need weapons.

SOUNDBITE
"I'm nineteen, I can fly, I can flatten ballbearings between my fingers and I'm practically invulnerable to damage. What can possibly go wrong?"

TRADEMARK
Vanity, hedonism, and a general air of smug self-satisfaction.

MOTIVATION
The son of former 60s super-heroes Dr Beat and White Heat, both of whom disappeared under mysterious circumstances, Zenith had little interest in super-heroics. He was more interested in good old-fashioned hedonism, using his famous heritage to bolster his singing career.

PARTNERS
His long-suffering agent, Eddie; Siadwel Rhys, aka the Red Dragon; Ruby Fox, aka Voltage; Peter St. John, aka 60s super-hippie Mandala, aka the Minister of Defence.


LINKS
Seizing the Fire by Nathan Milner
A guide to Zenith