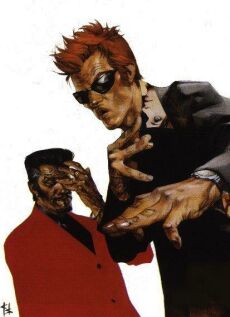 FIRST APPEARANCE IN 2000AD
Nervous Rex 1 episode (Prog 981) 6 pages
Script: Dan Abnett, Artist: David Millgate
Reprinted
DC/Rebellion: Sinister Dexter Gunshark Vacation
MOST RECENT APPEARANCE IN 2000AD
Blank Ammo 1 episode (Prog 1961) 10 pages
Script: Dan Abnett, Artist: Simon Davis, Letters: Ellie De Ville
Featuring:
FIRST APPEARANCE IN THE MEGAZINE
Bouncers 1 episode (Meg 202) 1 pages
Script: Dan Abnett, Artist: Steve Roberts, Colour: Simon Gurr, Letters: Ellie De Ville
MOST RECENT APPEARANCE IN THE MEGAZINE
Interrogation - Thinking outside the Paintbox 1 episode (Meg 265) 7 pages
Script: Simon Davis interviewed by Michael Molcher, Artist: Simon Davis
Featuring: Sinister Dexter
Text article

STARRING
Finnigan Rapunzel Sinister
Ramone Algonquin Winnebago Dexter

STATUS
Gun Sharks - Euroslang for contract killers

DATELINE
The near future, Central Europe Time

LOCATION
Downlode, a swollen monster 'burg slumped across the heart of Europe

WEAPONRY
Sinister favours a cut-down H&K Scatta-matic® Minigun. Dex owns a pair of chrome-plated nine mil Ruger automatic pistols.

TRADEMARK
They ride in Dexter's immaculate Edsel automobile, a customised convertible from a bygone motoring age with a few "optional extras".

MOTIVATION
Money, wired direct to their bank account, for which they do anything to anyone - either within Downlode or the occasional awayday to another city.

PARTNERS
They have a network of friends and allies in the city who help them: ace informant "Nervous" Rex Mundi, black market baron Floppy Dick and police detective Rocky Rhodes of the D.C.P.D.

BACKSTORY
Sinister Dexter are the contract killing kings with chalk outlines round their souls. Renowned as the best gunsharks money can buy, to maintain that reputation they cannot turn down a kill - no matter how dangerous

NOTES
Inspired by John Travolta and Samuel L. Jackson in Pulp Fiction.
Artist Jason Brashill declined the chance to co-create Sinister Dexter but he did paint the cover image to promote the characters' first appearance in Prog 981.
Sinister is Latin for left, while Dexter is Latin for right


LINKS
The Sinister Dexter index by Rory O'Kelly
Profiles, wallpapers, art samples, quotes, photo-fakes and fan art!