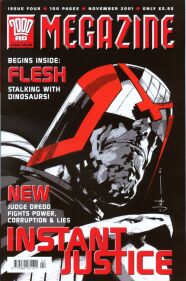 JUDGE DREDD MEGAZINE 4.04
COVER DATE: 1st November, 2001
Price: £3.95 Earth money
Cover: Judge Dredd by Jock
Cover Artwork:
1
NOTES
Flesh! special feature
CONTENTS
Deep Blue Death 3 episodes (Megs 4.03 to 4.05) 30 pages
Script: Robbie Morrison, Artist: Steve Yeowell, Letters: Tom Frame
Spanish by H. R. Morrison
Reprinted
Judge Dredd Megazine 343
Hachette: Judge Dredd The Mega Collection The Simping Detective
Bad Manners 1 episode (Meg 4.04) 14 pages
Script: John Wagner, Artist: John Burns, Colour: Fully Painted, Letters: Tom Frame
Featuring: Judge Manners
Reprinted
Judge Dredd Megazine 286
Wardog 10 episodes (Megs 4.01 to 4.10) 84 pages
Script: Dan Abnett, Artist: Patrick Goddard (pencils), Dylan Teague (inks), Colour: Richard Elson, Letters: David Bishop
This story is prequel to a Wardog game by Rebellion. For more information click here
Reprinted
Rebellion: Wardog
Click HERE for a printer friendly view.
REPRINT MATERIAL
Flesh Book 1 - 1-3 19 episodes (Progs 1 to 19) 87 pages
Script: Pat Mills (1, 18-19), Ken Armstrong (2-4, 8), Studio Giolitti (5, 9, 10, 13), Kelvin Gosnell (6-7, 11-12, 14-17), Artist: Boix (1-2, 8-10, 14), Ramon Sola (3-7, 10-12, 15-16, 19), Felix Carrion (13, 17-18), Letters: Bill Nuttall (1-5, 16), Jack Potter (6-8, 12, 19), J. Swain (13), S. Richardson (9), John Aldrich (10, 14), Peter Knight (11-12), Bennsberg (15), Tony Jacob (17), Tom Frame (18)
Reprinted
2000AD Annual 1982 (1-3)
2000AD Annual 1984 (4-7)
2000AD Annual 1989 (11-18)
Judge Dredd Megazine 4.04 (1-3)
Judge Dredd Megazine 4.05 (4-7)
Judge Dredd Megazine 4.06 (8-14)
Judge Dredd Megazine 4.07 (15-19)
Quality: Scavengers 14 (4-7), Colour: Unknown
Quality: Scavengers 15 (8-11), Colour: Unknown
Quality: Scavengers 16 (12-15), Colour: Unknown
Quality: Scavengers 17 (16-19), Colour: Unknown
Quality: Spellbinders 13 (1-3), Colour: Unknown
Inspector Sleep (Beyond 2000AD ) 34 pages
Script: Warren Ellis, Artist: D'Israeli, Letters: Mary Green
Reprint from Blast!
Reprinted
Judge Dredd Megazine 4.04