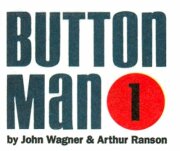 Book I: The Killing Game 12 episodes (Progs 780 to 791) 84 pages
Script: John Wagner, Artist: Arthur Ranson
Reprinted
Judge Dredd Megazine 3.72 (1-3)
Judge Dredd Megazine 3.73 (4-6)
Judge Dredd Megazine 3.74 (7-9)
Judge Dredd Megazine 3.75 (10-12)
Kitchen Sink Press: Button Man The Killing Game
Rebellion: Button Man The Killing Game
Book II: Confession 16 episodes (Progs 904 to 919) 96 pages
Script: John Wagner, Artist: Arthur Ranson
The model for the doctor is Peter Hogan.
Reprinted
Judge Dredd Megazine 4.05 (1-4)
Judge Dredd Megazine 4.06 (5-8)
Judge Dredd Megazine 4.07 (9-12)
Judge Dredd Megazine 4.08 (13-16)
Rebellion: Button Man The Confession of Harry Exton
Button Man: Book 3 12 episodes (Progs 1223 to 1233)
Script: John Wagner, Artist: Arthur Ranson
First episode double length in 2000AD Prog 2001. Episodes 10-12 double length.
Book IV: The Hitman's Daughter 16 episodes (Progs 1551 to 1566) 96 pages
Script: John Wagner, Artist: Frazer Irving, Colour: Fiona Staples, Letters: Ellie De Ville (1-8, 10-16), Annie Parkhouse (9)
Based on an idea by Arthur Ranson.
Click HERE for a printer friendly view.