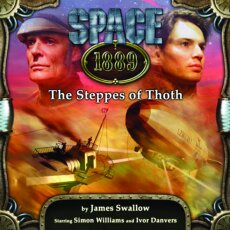 WIN SPACE 1889 CDS
SCIENCE FICTION ADVENTURES IN A MORE CIVILISED TIME! Space: 1889 is an exciting new series of full-cast audio adventures on CD, set in a fantastic alternate universe where Thomas Edison discovered a means to travel into the ether. Mars, home of an ancient but declining culture, has become the new battleground for Earth's empires and a lure for adventurers and explorers.
Released this month by Noise Monster Productions (www.noisemonster.com) is The Steppes of Thoth by Dredd audio writer James Swallow, in which savage tribesmen bar the way to the wreck of a lost Ether Flyer, and the secrets it hides. For Captain Roger St John Ffolkes (Simon Williams), it is a mission he cannot refuse; for adventuress Georgina Golightly, a journey to risk all ­and for Mars, the chance to save a world ... or ignite a war. Each adventure is a self-contained story released on a single CD with over 70 minutes of action, adventure and intrigue. The plays are performed by a full professional cast and feature cinematic sound design and an original music score. And all you have to do to win one of five copies (RRP £10.99) is tell us:
---
This competition closed on 5th April, 2005.