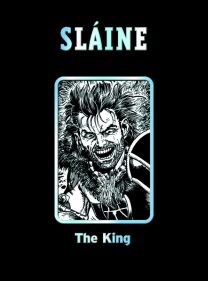 WIN SLáINE THE KING
Crom! Thanks to Titan Books, we've got five copies of the deluxe hardback compendium Sláine the King to give away ... and they didn't think it too many. The book is on sale now, priced £19.99 - but five Megazine readers can win one for free!Collecting the classic slash and slay sagas Sky Chariots and Sláine the King, illustrated by Mike McMahon and Glenn Fabry respectively, this huge volume sees outcast barbarian Sláine take to the skies in the magically-powered Cloud Curragh - and return home to meet his awesome destiny ...If you'd like a chance to win, all you have to do is answer a question so simple, you could solve it with an axe in your skull.
---
This competition closed on 30th April, 2002.