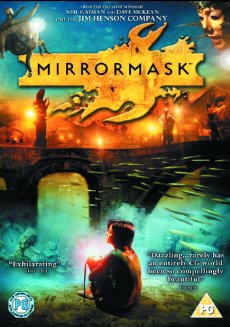 WIN MIRRORMASK
Acclaimed for his run of Sandman covers as well as his work with Neil Gaiman on such graphic novels as Signal to Noise, Mr Punch and Violent Cases, artist Dave McKean's distinctive visual style has always used a mix of media, from paint and sculpture to photography and CGI. This year he brought his eye for the arresting image to the cinema as he branched out into feature film-making with his directorial debut Mirrormask, a fantasy adventure scripted by Gaiman, which combines live-action and animation. The tale of a teenager Helena, who dreams herself into a strange world of weird creatures and who must find the fabled Mirrormask to save the ailing White Queen, it's released on DVD on 5 June 2006 by Sony Pictures Home Entertainment, priced £15.99.

The movie's origins began with an offer from executive producer Lisa Henson, who suggested a fantasy film in the spirit of her father Jim's Dark Crystal and Labyrinth. After brainstorming ideas with Gaiman, the budget was set at a modest $4 million, and with the actors mostly shot against a blue screen, McKean employed a team of fifteen up-and-coming animators to bring the world of Mirrormask to life, working over a seventeen-month period. The strange, beautiful architecture and menacing atmosphere of the dreamland can be attributed to McKean's desire to build a city similar to Warsaw or Vienna, with a sense of decay running through it.

The story, with its young protagonist, also shares themes of childhood and growing up that can be found in McKean and Gaiman's earlier work, such as Violent Cases, Mr Punch and The Wolves in the Walls, and the artist believes that it's a stage of life that, with both of them parents, is interesting to explore. Helena in Mirrormask is caught in a transition between child and adult, and the film is as much about her coming to terms with her growing maturity as it is her attempt to defeat the evil that spreading throughout the dreamworld.

Having recently worked on Elton John's Broadway vampire musical Lestat, McKean is returning to film-making, drafting a script for an adaptation of Signal to Noise. Expect something very unique indeed... Thanks to the those kindly folks at Sony, we have six copies of Mirrormask on DVD to give away absolutely free ­ one lucky winner will get a Sony Home Cinema System plus a DVD, with five runners-up each receiving a copy of the film. To enter, all you have to do is answer this easy question:
---
This competition closed on 21st June, 2006.