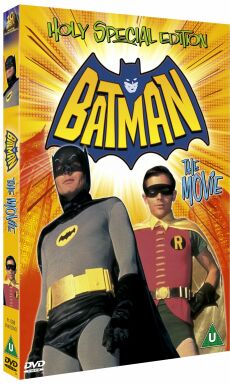 WIN CAPED CRUSADER CONUNDRUM
Holy DVD competition! Thanks to 20th Century-Fox Home Entertainment, we've got five copies of the Batman: the Movie Special Edition DVD to give away. This ain't no Dark Knight - this is the 1966 original, presented in all its lurid majesty with a mass of special features. It's on sale from 6 May, priced £19.99 - but five Meg readers can win one for free!

Adam West and Burt Ward play Batman and Robin opposite a titanic team-up of supervillains - the Joker, the Penguin, the Riddler and Catwoman. Special features include a commentary by West and Ward, plus behind-the-scenes exclusives, stills galleries, trailers and the secrets of the Batmobile revealed.

If you'd like a chance to win, all you have to do is answer a question so simple, you could solve it with your underpants outside your trews.
---
This competition closed on 4th June, 2002.