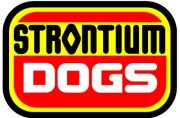 FIRST APPEARANCE IN 2000AD
Monsters 12 episodes (Progs 750 to 761) 60 pages
Script: Garth Ennis, Artist: Steve Pugh
Featuring: Feral
Reprinted
Judge Dredd Megazine 295
Classic 2000AD 4
MOST RECENT APPEARANCE IN 2000AD
Hate & War 7 episodes (Progs 993 to 999) 43 pages
Script: Peter Hogan, Artist: Trevor Hairsine
Featuring: Middenface McNulty

STARRING
Middenface McNulty and the Gronk

STATUS
Search/Destroy agents

DATELINE
2185 AD

LOCATION
The planet Hsin, which is riven with a bloody civil war.

WEAPONRY
Anything Middenface can lay his hands. The Gronk mostly refuses to use heavy ordinance.

SOUNDBITE
Middenface: "Jings!"
The Gronk: "Oh, my poor heartses."

TRADEMARK
Middenface is a knobble-headed Scotsman with two great loves - a wee dram and putting the head on those he dislikes. The Gronk is a kindly alien, now acting as an affiliate to the other Strontium Dogs.

MOTIVATION
Normally Strontium Dogs operate on a strictly creds-only basis, finding and executing warrants on wanted felons. However recent events (see Series Update) have given them other priorities.

PARTNERS
Feral, a Strontium Dog who is crippled by a progressive mutation. This has gone so far that Feral has reverted to a cocoon state. Bullmoose, also a Search/Destroy Agent. Ho, X'ian and Viper - three guerilla fighters in the Hsin civil war who have teamed up with Middenface.

BACKSTORY
The Gronk and Bullmoose have travelled to Hsin in search of Kingsblood, a herb the Gronk hopes will cure Feral (see Associates above). On Hsin the pair team with Middenface and his guerilla fighting friends. On the planet Hirfu, Feral is sought by the Alphabet Men for killing one of their men.