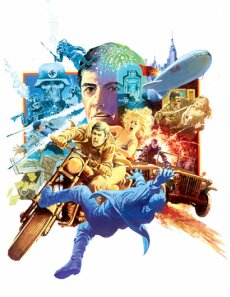 2000 AD EXTREME EDITION 6, on sale 3 November, highlights the hyper-powered exploits of Secret Service super agent John Probe ­ aka M.A.C.H. 1!

Created by Pat Mills and artist Enio, M.A.C.H. 1 was the runaway hit of 2000 AD's earliest Progs, easily eclipsing Judge Dredd and Dan Dare in the popularity stakes. Computer-assisted and biotronically augmented to have the strength of ten men, Probe is Britain's ultimate troubleshooter - and her last line of defence! See Probe take his war on terror to Irania and Turkostan ... battle to save London from a nerve gas attack ... discover Himmler's lost treasure ... climb Everest ... and journey into space for a showdown with the 'Planet Killers!'

116 pages of vintage 1970s adventure by Pat Mills, John Wagner and others, with art from talents including Enio, John Cooper, Mike Dorey and Jesus Redondo, the latest Extreme (priced just £2.99) comes with a new cover painted by the legendary John M. Burns!