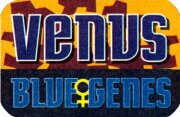 FIRST APPEARANCE IN 2000AD
From Hell to Eternity 6 episodes (Progs 335 to 340) 28 pages
Script: Gerry Finley-Day, Artist: Brett Ewins, Letters: Bill Nuttall
Featuring: Venus Bluegenes
Reprinted
The Best of 2000AD 25
Rebellion: Rogue Trooper Eye of the Traitor
Rebellion: Rogue Trooper Tales of Nu-Earth 2
MOST RECENT APPEARANCE IN 2000AD
Rogue Troopers 9 episodes (Progs 1014 to 1022) 54 pages
Script: Dan Abnett/Steve White, Artist: Alex Ronald
Featuring: Venus Bluegenes
FIRST APPEARANCE IN THE MEGAZINE
The History of Rogue Trooper - The Rogue Element 1 episode (Meg 244) 8 pages
Script: Scott Montgomery
Featuring: Rogue Trooper, Rogue Trooper (Friday), Venus Bluegenes, Tor Cyan, Mercy Heights
Text article

STARRING
Venus

STATUS
Genetic Infantrywoman (G.I.)

DATELINE
The future

LOCATION
Nu Earth

WEAPONRY
Standard Mark 1 G.I. Assault Rifle (with inbuilt targeting system and infra-red low-light sight and biochip-compatible). Frag grenades.

SPECIAL ABILITIES
Intramuscular polycarbon armour (bullet-proof skin), hardened "Super Axon" central nervous system (ehancing reflexes), advanced "self-scrubbing" respiratory system immune to all forms of chemical attack, nictitating "third eyelid" membrane.

MOTIVATION
A lone wolf, Venus wanders the war-ravaged surface of Nu Earth, occasionally working for hire or trading her skills for supplies and transport; thereby fulfilling the dictates of her genetically-enhanced D.N.A. - to fight!

PARTNERS
Venus has worked alongside the original Rogue Trooper and Friday, last of the Mark 2 G.I.s.

BACKSTORY
Together with the first Rogue and his team of G.I.s, Venus was responsible for bringing in Friday for the Nort/Souther Coalition. After the disastrous storming of the Scavenger of Souls' satellite (during which the original G.I.s were killed), she stayed with Friday, developing a near-human affection for him. However, before their meeting Venus was already the veteran of many a solo mission . . .