Cover reprinted as: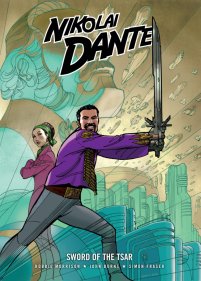 2000AD PROG 1511
COVER DATE: 25th October, 2006
Price: £1.75 Earth money
Cover: Nikolai Dante by Simon Fraser
COMPETITION
Win Family Guy DVD boxsets
CONTENTS
Chiaroscuro 11 episodes (Progs 1507 to 1517) 65 pages
Script: Simon Spurrier, Artist: Smudge, Letters: Simon Bowland
New thrill! First and final episodes double length.
Reprinted
Judge Dredd Megazine 303
Origins 23 episodes (Progs 1505 to 1535) 139 pages
Script: John Wagner, Artist: Carlos Ezquerra, Letters: Annie Parkhouse
Featuring: Judge Fargo, Judge Logan, Judge Hershey, Judge Goodman, Judge Solomon, Rico Dredd, The Fargo Clan
Thanks to Robin Low. Episodes have individual titles. Part 14 in 2000AD Prog 2007. Not in Progs 1520, 1521, 1522, 1523, 1524, 1525, 1526, 1527, 1528.
Reprinted
Prion Books: Judge Dredd The Best of (1-2, 5-6)
Rebellion: Judge Dredd Epics Origins
The Hitman and Hermoth 4 episodes (Progs 1509 to 1512) 20 pages
Script: Simon Spurrier, Artist: Boo Cook, Letters: Ellie De Ville
Reprinted
Judge Dredd Megazine 324
Sword of the Tsar 6 episodes (Progs 1511 to 1516) 36 pages
Script: Robbie Morrison, Artist: Simon Fraser, Colour: Gary Caldwell, Letters: Annie Parkhouse
Reprinted
Rebellion: Nikolai Dante Sword of the Tsar
Places to go, People to do 6 episodes (Progs 1508 to 1513) 30 pages
Script: Dan Abnett, Artist: Anthony Williams, Letters: Ellie De Ville
Click HERE for a printer friendly view.