ROGUE TROOPER: RE-GENE
Written by Gerry Finley-Day
Art by Cam Kennedy and Jose Ortiz
Cover by Jose Ortiz

Rebellion Solicitation: THE BOYS ARE BACK!
Rogue Trooper returns to Milli-Com to resurrect his dead buddies from their bio-chips. Something goes horribly wrong with the Re-Gene process and his friends literally crumble before his eyes! Now Rogue must find the antigen that will bring his comrades back for good but to do this he must travel to the planet Horst where warring aliens, hostile landscapes and deadly foes stand between him and success.
On sale in the UK March 2006 o 7.375" x 10.1875" o B&W, 160 pg. £10.99 UK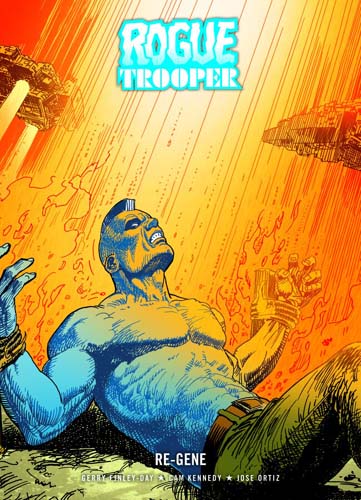 This volume reprints:

Re-Gened, 6 episodes, progs 401-406 (Jan. to Feb. 1985). Story by Finley-Day, art by Kennedy.

Antigen of Horst, 20 episodes, progs 410-419, 422-426 and 428-432 (March to Aug. 1985). Story by Finley-Day, art by Jose Ortiz.

Return to Milli-Com, 6 episodes, progs 444-449 (Nov. to Dec. 1985). Story by Finley-Day, art by Jose Ortiz.


Commentary: Well, points to Rebellion for completing the weekly episodes of Finley-Day's run on Rogue Trooper in book form, but this volume is for completists only. Jose Ortiz brings a lot to the page with his excellent art, but the writer is clearly treading water by this point, and it's unlikely any new readers will be swayed by these unconvincing stories. The "collator / collaborator" cliffhanger is particularly laughable.

Well, I say Ortiz is due some praise, but he also illustrates a sequence which implies that Bagman carries about seven hundred hand grenades in there somewhere. Um.

Missing are a number of one-off episodes from annuals and specials which originally appeared between 1982 and 1985. These would have made a fine appendix and made the five volumes truly complete, but they were instead held over for an Extreme Edition magazine in 2006.

The solicitation text on these pages is provided by Rebellion. Commentaries are written by and copyright Grant Goggans.