NECRONAUTS
Written by Gordon Rennie
Art and cover by Frazer Irving

Rebellion Solicitation: WHEN THE WORLD FAMOUS ESCAPOLGIST Harry Houdini slips into a near-death state while practising his act, something horrible from the boundaries of consciousness follows him back...
Now Houdini must join forces with the era's most famous afficionados of the uncanny - Sir Arthur Conan Doyle, Charles Fort and H.P. Lovecraft - and try to defeat an evil force which wants to enslave the human race.
However, this intrepid group must not only face the enemy's terrifying agents on Earth, but also a traitor in their midst. Not to mention the dire, eldritch horrors which lurk just beyond the veil of sanity...
On sale October 2003 o 64 pg, £7.99 UK, $13.95 US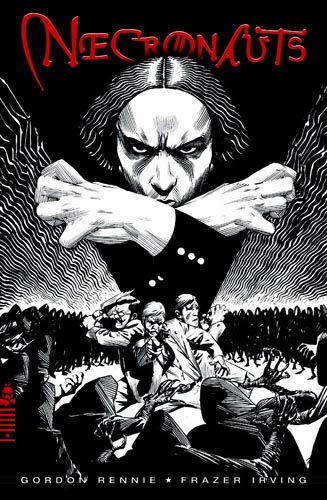 This volume reprints:

Necronauts, 9 episodes, "Prog 2001" and progs 1223-1230 (Dec. 2000 to Feb. 2001). Story by Gordon Rennie, art by Frazer Irving. (Episodes 1 and 9 are double-length.)

Commentary: forthcoming

The solicitation text on these pages is provided by Rebellion. Commentaries are written by and copyright Grant Goggans.