DURHAM RED VOLUME 2: THE VERMIN STARS
Written by Dan Abnett
Art and cover by Mark Harrison

Rebellion Solicitation: Once a bounty hunter with the Strontium Dogs, vampire Durham Red went into hibernation for thousands of years. Awoken in the far future by the mutant Judas Harrow, she discovered that the hate between humans and mutants was as strong as ever. Resolved to end the conflict for all time, Durham has travelled to the area of space known as the Vermin Stars, accompanied by Harrow and a human, Matthias Godolkin - once a mutant hunter, now convinced that the vampire has enslaved him. But will she be able to enlist the help of the mutant terrorists, the Tenebrae, and finally end the war? Brand new cover image by series artist Mark Harrison, eight-page sketchbook and covers gallery High quality European-style paperback book. Regularly requested as a reprint by 2000 AD readers!
On sale October 2003 o 80 pg, color, £9.99 UK, $16.99 US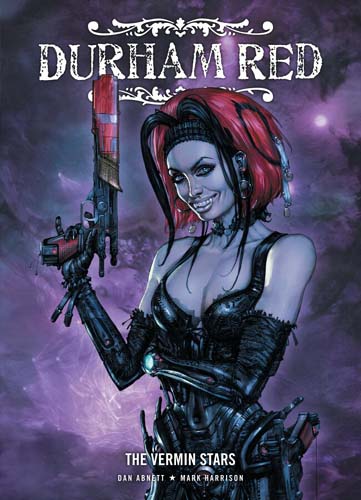 This volume reprints:

The Vermin Stars, 13 episodes, progs 1250-1261 (July to Sept. 2001). (episode 1 double-length, two episodes in prog 1261). Story by Abnett, art by Harrison.




Commentary: forthcoming

The solicitation text on these pages is provided by Rebellion. Commentaries are written by and copyright Grant Goggans.