DEVLIN WAUGH: SWIMMING IN BLOOD
Written by John Smith
Art by Sean Phillips, Siku & Michael Gaydos
Cover by Phillips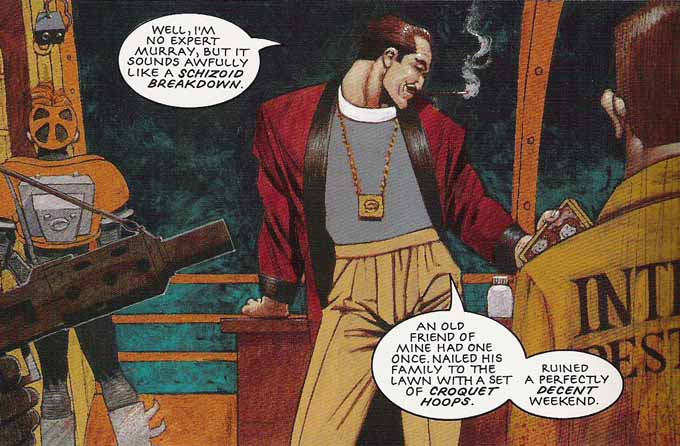 DC Solicitation: Created by John Smith (Vampirella) and Sean Phillips (SLEEPER), Devlin Waugh is the Vatican's best freelance supernatural operative: an aesthete, bon vivant, and expert athlete whose verbal barbs are just as vicious as his talent for fisticuffs. But in this volume, Devlin's called in to the high-tech underwater prison of Aquatraz to investigate an outbreak of vampirism - and he may have bitten off more than he can chew!
Also featured are the Judge Dredd crossover stories "Brief Encounter" and "Fetish" (with art by Siku), as well as "A Mouthful of Dust" (illustrated by Alias' Michael Gaydos) and the prose stories "A Love Like Blood" and "Body and Soul," both of which feature Phillips's illustrations. This collection also includes an extensive making-of section, featuring excerpts from Smith's original treatment and script as well as Phillips's page layouts and sketches.
On sale Oct 6* [2004] o 7.375" x 10.1875" o 224 pg. FC, $19.95 US
*publication postponed to 10/20/04
This volume reprints:

Swimming in Blood, 9 episodes, Judge Dredd Megazine vol.2 #1-9 (May to Aug. 1992). Story by John Smith, art by Sean Phillips.

Brief Encounter, Judge Dredd Megazine vol.2 #26 (Apr. 1993). Story by John Smith, art by Sean Phillips.

Fetish, 5 episodes, Judge Dredd Megazine vol.3 #26-30 (Feb. to June 1997). Story by John Smith, art by Siku.

Mouthful of Dust, 2 episodes, Judge Dredd Megazine vol.3 #72-73 (Dec. 2000 to Jan. 2001). Story by John Smith, art by Michael Gaydos.




Commentary: A freelance exorcist in the employ of Vatican City, Devlin Waugh is a worldwide celebrity on top of fortean events. Basically working in the dark occult corners of Judge Dredd's universe, Devlin's world is one of violent magic and amoral sorcerors fighting a war without care for the planet's politics. Thematically, it's not entirely removed from what you might see in the long-running DC horror series Hellblazer, although Devlin's bon vivant persona and aesthete lifestyle prove a bizarre comedic counterpoint to the storylines. There's a great deal of hinted-at backstory as well; one of Smith's hallmarks for a fine comic series is the slightly unnerving knowing that there's a lot more out there that we're better off not knowing.

This wonderful collection reprints the contents of two separate, earlier editions from Hamlyn Books and adds three further episodes.

The solicitation text on these pages is provided by DC Comics. Commentaries are written by and copyright Grant Goggans. gmslegion@2000ad.org