JUDGE DREDD: DREDD VS. DEATH
Written by John Wagner & Alan Grant
Art and cover by Brian Bolland

DC Solicitation: A landmark collection featuring ultra-rare sequential art by the legendary Brian Bolland (BATMAN: THE KILLING JOKE)! These beautifully illustrated stories helped establish Bolland's reputation as one of comics' greatest artists, with tales that pit Judge Dredd against his archfoe! When Judge Death comes to Mega-City One, it will take all of Dredd's ingenuity, not to mention the help of Psi-Judge Cassandra Anderson, to stop him!
On sale March 23 [2005] o 7.375" x 10.1875" o B&W, 112 pg. $12.99 US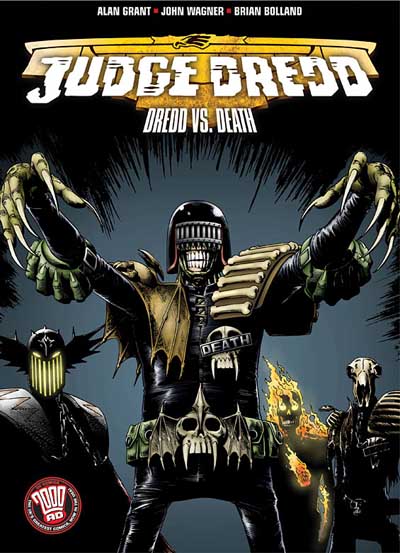 This volume reprints: (presumed)

Judge Death, 3 episodes, progs 149-151 (1/26/80 to 2/9/80). Story by "John Howard" (Wagner), art by Brian Bolland.

Judge Death Lives, 5 episodes, progs 224-228 (8/8/81 to 9/5/81). Story by "T.B. Grover" (Wagner & Grant), art by Brian Bolland.

Punks Rule, prog 110 (4/28/79). Story by "John Howard" (Wagner), art by Brian Bolland.

The Forever Crimes, prog 120 (7/7/79). Story by "John Howard" (Wagner), art by Brian Bolland.

The First Luna Olympics, prog 50 (2/4/78). Story by "John Howard" (Wagner), art by Brian Bolland.

Luna-1 War, prog 51 (2/11/78). Story by "John Howard" (Wagner), art by Brian Bolland.

The Oxygen Board, prog 57 (3/25/78). Story by "John Howard" (Wagner), art by Brian Bolland.

Face Changers, prog 52 (2/18/78). Story by "John Howard" (Wagner), art by Brian Bolland.

Night of the Fog, prog 127 (8/25/79). Story by "John Howard" (Wagner), art by Brian Bolland.




Commentary: DC's solicitation exaggerates just a little. All of these Bolland episodes have been reprinted many times in many places. In fact, the content of this book seems to duplicate Titan's last collection of the artist's material, two years ago. Nevertheless, it's a fabulous entry-point to the world of Dredd, and the best of the three DC Dredd collections so far. Bolland is a spectacular artist, and readers only familiar with him through his cover art will enjoy learning just how good a storyteller he is.

The Judge Death material which covers a little more than half of the page count is genuinely great, just loaded with fabulous imagery and surprising twists and turns. (It also includes, at the end of "Judge Death Lives" part 1, one of the all-time great comics cliffhangers. Having to wait a week from the end of that must have been torture.) Death's third appearance, a twelve-part story called "Four Dark Judges," will be reprinted in the first Anderson: Psi Division DC/Rebellion trade in May.

The solicitation text on these pages is provided by DC Comics. Commentaries are written by and copyright Grant Goggans. gmslegion@2000ad.org