ABC WARRIORS: THE BLACK HOLE
Written by Pat Mills
Art by Simon Bisley [& S.M.S.]
Cover by Simon Bisley

DC Solicitation: The A.B.C. Warriors are back in this explosive collection written by Pat Mills (Slaine) and featuring the ultra-dynamic art of Simon Bisley (LOBO, Heavy Metal)! When the far-future evil empire of Termight begins experimenting with time-travel, they unleash a force that could destroy the entire universe!
On sale May 18 [2005] o 7.375" x 10.1875" o 136 pg., B&W, $14.99 US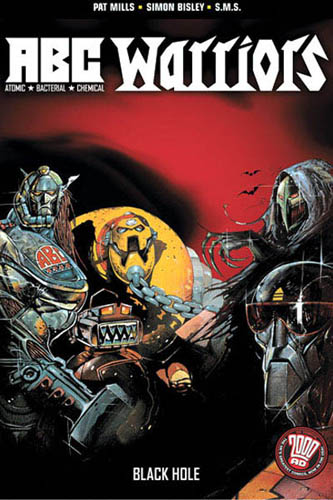 This volume reprints:

The Black Hole, 21 episodes, progs 555-566 and 573-581 (Jan. to July 1988). Story by Pat Mills, art by Simon Bisley, "S.M.S." .




Commentary: A long time had passed since the original series of ABC Warriors. Its fanbase had grown up and the comic had grown along with it, so the story of "The Black Hole" is aimed at an older audience, one more desiring of subtlety and character than the mad, over-the-top action of the first series. "The Black Hole" succeeds remarkably; it is the best ABC Warriors story and one of the very best things Pat Mills has done for 2000 AD.

The Warriors were pretty well retired after Mills, unhappy that so many artists were used on their first series, declined to write them further. Alan Moore occasionally contributed a Warriors or a Ro-Busters tale for a 2000 AD Annual, but otherwise they were mothballed until Nemesis Book III (progs 335-349) reintroduced Mek-Quake. Ro-Jaws returned in episode one of Nemesis Book IV (387), setting the stage for the return of the team later in that series. This lineup – Hammerstein, Joe Pineapples, Blackblood, Mongrol, Mek-Quake and the new characters Mad Ronn and Hitaki – fought alongside Nemesis, who revealed himself to be the host for Deadlock's psychic essence, or something like that.

In prog 503, near the conclusion of Nemesis Book VI, the Warriors - now without Mad Ronn and Hitaki, who had been destroyed - and Ro-Jaws were sent by Nemesis to shut down the Black Hole bypass surrounding the future Earth. Almost a year later, this series began, detailing their mission. Allied with them is one of the best secret weapons any team of unhinged robots could have: Simon Bisley.

Bisley gets a lot of flak from comic readers these days, thanks to better than a decade's worth of drawings in Heavy Metal magazine which is far less intricate or interesting than should be penned by a man of his talent. To see what he produced in 1987-88 and compare the two is simply heartbreaking. The penmanship in his ABC Warriors is nothing short of amazing, spectacularly intricate and detailed, and full of loving in-jokes on the periphery of the action. Admittedly, the later episodes (he penned 13 of the 21; the pseudonymous "SMS" the other eight) are not as lush as the first four, but every panel is an awe-inspiring rush of energy and drama, with incredibly original camera angles and designs. Even without a script as solid as this one, "Black Hole" would be worth purchasing for the art.

But "The Black Hole" is also among the best of all the many contributions Pat Mills brought to 2000 AD. It's a confident, intelligent script which is alternately subtle and sledgehammered at precisely the right moments, full of wild ideas but also written from the heart, with really shocking moments like the death of a toddler. Mills effortlessly lets the viewpoint shift from character to character as the episodes progress, and the characters' genuinely unpleasant and backstabbing natures are not glossed over.

"The Black Hole" is a genuinely excellent read, and highly recommended.

The solicitation text on these pages is provided by DC Comics. Commentaries are written by and copyright Grant Goggans.