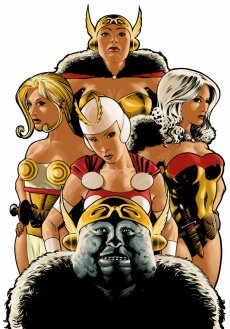 FIRST APPEARANCE IN 2000AD
Valkyries 6 episodes (Progs 1377 to 1382) 46 pages
Script: Steve Moore, Artist: John Lucas, Colour: Len O'Grady, Letters: Ellie De Ville
New Thrill! Episodes 1 and 2 double length.
Reprinted
Judge Dredd Megazine 351

STARRING
Kara Signysdottir, Hjordis Hjordisdottir, Glimhild Skuldsdottir, Lily Lee Li, & Squixx Pelador

STATUS
Military guardians of a matriarchal empire

DATELINE
The far future

LOCATION
The Ring - a vast interstellar dominion covering siz worlds, with Earth as the hub

WEAPONRY
The Valkyries operate out of their ship, the Shield Maiden, which is equipped with state-of-the-art connons and hyper-space technology. The ship can detect when noblewomen have gone off-planet through the underskin implant that they all carry for security reasons. The warriors themselves are armed with las-pistols and traditional bladed weapons.

SOUNDBITE
"If it all ends up in flames, go out squealing!"

BACKSTORY
Ruled by Queen Hildegard from her imperial court on Thule, women are the superior sex throughout The Ring, providing the personnel for the military, the intellectuals and the noble classes. Men - referred to as 'peacocks' - are regarded as inferior and valued for little more than entertainment. With the imperial princesses of the court interested in nothing but sex, drugs and partying, there are many who feel the decadent 1,000-year-old empire is facing its end times, and the threat of alien races - or worse, male-dominated societies - that exist beyond The Ring could destroy everything...