Robbie Morrison, Simon Fraser, Charlie Adlard and John Burns
144 pp
£11.99
Paperback

Year of the Tsar 2668 AD and the sound of wedding bells is in the air. Jena Makarov, the daughter of Tsar Vladimir the Conqueror, is betrothed to Mikhail Deriabin, media tyrant and patriarch of the House of Bolshoi. Nikolai Dante is less than happy with the announcement.

Now, assigned to be Jena's bodyguard, Dante has to protect her from more than his own passions as those who would seek to bring about war set their sights on Russia's fairest…

Written by Robbie Morrison (The Authority) with art by Charlie Adlard (The Walking Dead), John Burns (The Bendatti Vendetta), and Simon Fraser (Richard Matheson's Hell House), this is the third book continuing the adventures of Russia's greatest love machine!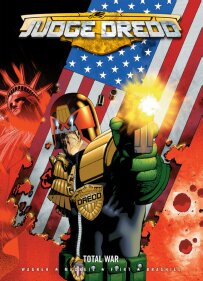 John Wagner, Colin MacNeil, Henry Flint and Jason Brashill
144pp
£11.99
Paperback
In the Grand Hall of Justice a chilling ultimatum is issued to the Judges: Remove yourselves from power or face the consequences. Somewhere in Mega-City One the terrorist organisation Total War have planted two hundred thermonuclear devices and as long as the Judges stay in charge they will detonate them one by one.
Total War is an explosive epic from Judge Dredd co-creator John Wagner (A History of Violence) with art from Colin MacNeil (Devlin Waugh), Henry Flint (Judge Dredd Vs Aliens) and Jason Brashill (Shaun of the Dead).
Ian Edginton and Steve Yeowell
80pp
£9.99
Hardback
When pirate captain Jack Dancer and the crew of The Red Wench raid a Spanish Galleon they little realise that within their plunder lies the missing chapter of a feared occult tome listing the nine million names of God. Dr Orlando Doyle, a fearsome sorcerer, has the rest of the book and together with his zombie crew he plans to retrieve the missing piece of this infernal puzzle. Using any means at his disposal he intends to utilise the dreaded book in a devilish deal to bring about the downfall of creation itself!
Written by Ian Edginton (Scarlet Traces, Richard Matheson's Hell House) and illustrated by Steve Yeowell (Zenith, The Invisibles) The Red Seas is an irreverent take on the pirate yarn spiced with full-blooded horror.