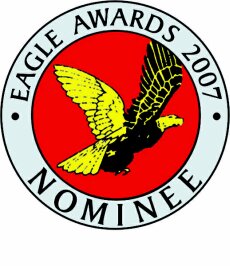 2000 AD and the Judge Dredd Megazine have both been nominated for an Eagle Award in the 'Favourite Colour Comicbook - British' category. Also up for an award are Judge Dredd for 'Favourite Comics Character', Rebellion for 'Favourite Publisher', and 2000 AD Editor-in-Chief Matt Smith for 'Favourite Editor'.

Voting continues until midnight on Sunday 22 April 2007 at: http://www.eagleawards.co.uk/vote.asp

An integral part of the Bristol International Comic Expo, the 2007 Eagle Awards are to be presented on the evening of Saturday 12 May at the Ramada Plaza Hotel.