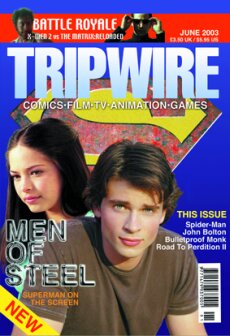 TRIP THE LIGHT FANTASTIC
May 15th 2003
Get some extra Dredd in your life with the latest issue of Tripwire Magazine, relaunching this weekend at all good newsagents in a new full colour 100 page format. Tripwire is the magazine to get the inside track on the world of comicbooks, and the premiere issue is packed with 2000AD related goodies as we talk to Tharg himself, 2000AD editor Matt Smith, about the future of your favourite weekly. Then there is an early look at Rebellion's Dredd versus Death video game which, if you will pardon our French, kicks lawbreaking arse. For you old skoolers out there we catch up with Anderson artist Barry Kitson to discuss his latest US project, Empire.
Not enough? Then we present an exclusive interview with fantasy artist extraordinaire John Bolton. We also talk to the concept and storyboard artists on the Matrix and smash hit X-Men 2 and get an exclusive look at the scenes that where impossible to meet with a mere $120 million budget! Miles Millar gives us the inside story on Smallville and Babylon 5 creator J Michael Straczynski talks exclusivley about writing for comics and television.
Tripwire supports the Bristol Comic Festival on May 24th-25th (visit www.sitsvac.org) and will be carrying out portfolio sessions for new writers and artists at the Tripwire table.
Tripwire has forged a singular independent voice in the comics industry for the last ten years. While retaining the focus on comics, the new format will enable Tripwire to explore the increasing cross over between comics, film, television and video games. Published monthly and in full colour for the first time Tripwire is the preeminent showcase for the industry's creative talent. Tripwire is available from the 15th of the month and costs £3.50.