HOW TO BUILD A JUDGE DREDD COSTUME
BY KEVIN GOLDSMITH
UNIFORM FINISHED
I put the uniform on and looked at myself in the mirror. The whole thing looked great, but I shall not be attempting anything like this again!
Postscript: I have since gone back to the costume and made further improvements. I added a removable loop of wire to the inside of the collar to make it sit more upright. I added loops of webbing to the bottoms of the trousers (a bit like a tracksuit) to keep them taught, but not tug enough to pull them down. This also makes the putting on and taking off the kneepads a lot easier. I also cut about 1/2 an inch off the ends of the toecaps to make them stick out less.
Finally I did something that I was going to do, then could not be bothered, and then thought sod it and did it - the epaulettes and badge that Dredd wears when he is with the cadets and the later court scene. I made these in the exact same way that I made the shin guards. They were painted using the 'Making Of' book as a guide, and are attached to the shoulders using Velcro either side of the collar. The left one incorporates a piece of bent wire from which the chain hangs, and another piece of bent wire sewed to another piece of Velcro allows the badge of office to be hung from the end of the chain.
I shall now go for a lie down in a darkened room.
Happy Modelling - phew!
Kevin 'Info' Goldsmith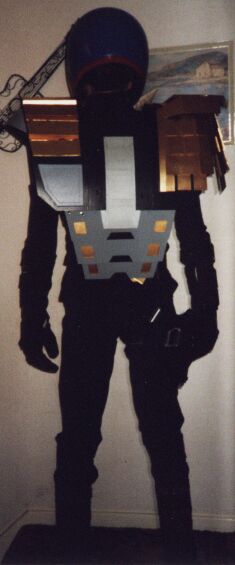 Further postscript: I have since gone back to the costume and made further improvements. The arm armour straps (trouser belts), now overlap on the opposite side to the armour (think of a wristwatch strap). They fasten with pop fasteners (sewn on) and Velcro, making it a lot easier to get on and off.